Kruuse Buster Strong Sole Dog Boot
Images are for illustration purposes only. Packaging may change from time to time and images on our website may or may not be updated.
Large

£14.71

Medium

£17.35

Small

£16.69
Selection of 3 products from
£14.71 to £17.35
Description
The Buster Strong Sole Dog Boot from Kruuse is made from thin latex rubber with a strong, waterproof sole. This boot is great at covering paw bandages and gives perfect protection for working dogs when they explore ground and surfaces of extremely hard character, e.g. rocky ground, rubbish dumps and areas with steel shavings, broken glass, snow and ice. Please note the boots are sold separately.
Size guide
The following guide measures from heel to toe.
Small - 4.5cm (West Highland White Terrier)
Medium - 7cm (Beagle)
Large - 8cm (German Shepherd/Labrador)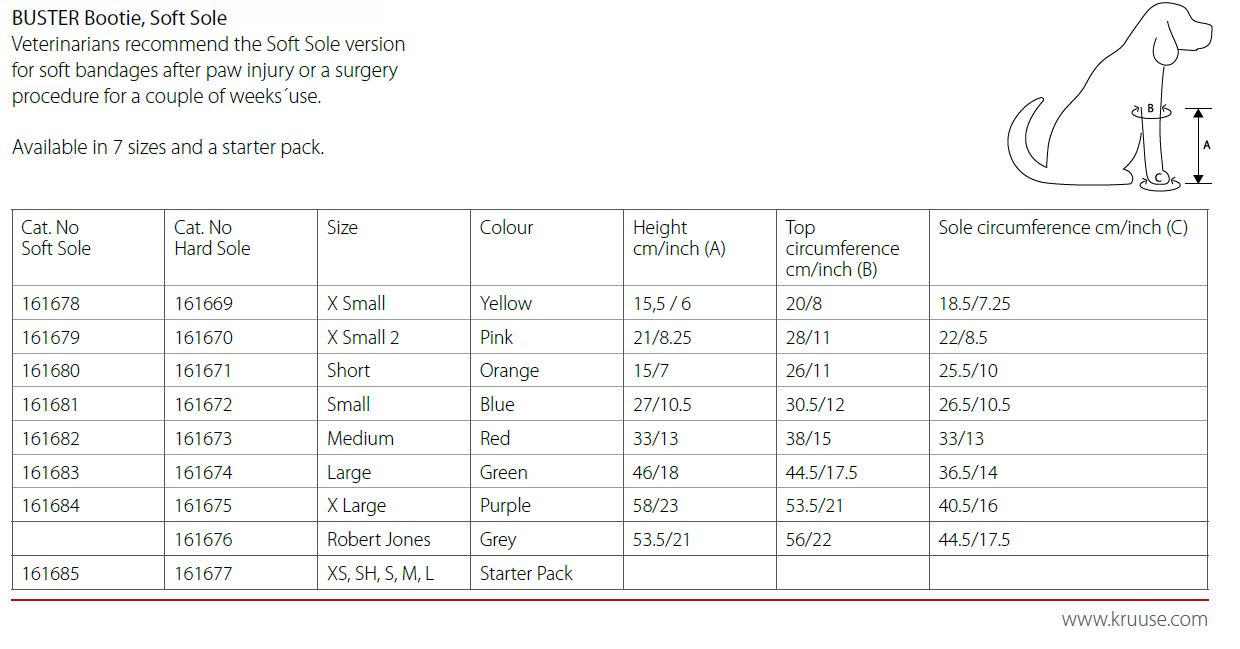 Need help or advice? Contact us:
Landline: 01582 842096
Mon - Fri: 8:00am - 5:45pm
Sat: 9:00am - 1:00pm
Email:

[email protected]
All prices include VAT where applicable.
Reviews (7)
Summary of Reviews for
Kruuse Buster Strong Sole Dog Boot
| | |
| --- | --- |
| Overall | |
| Value For Money | |
| Quality/Durability | |
| Pet's Opinion | |
4
out of
7
(
57
%) customers would recommend this product.
Only verified purchasers of this product can leave a review.
Great boot
Verified Purchase
Best boot we have bought for our Greyhound, it actually stays on
Customer recommends this product
Pricey and doesn't last long
Verified Purchase
The rubber boot itself is strong enough but the Velcro closure attached to it parts company within 1 hour of being worn. The hook strap that is supposed to secure the boot is extremely difficult to get a good fit on the foot and has to be readjusted/ attached every couple of hundred feet. Not a very well thought out product in my opinion
Customer does not recommend this product
good
Verified Purchase
Not as padded as I was expecting but does the job.
Customer recommends this product
Rubbish
Verified Purchase
Don't bother with this, you are better off bandaging with 'no chew' and a dressing and then changing a couple of times a day. Waited longer than they stated they would despatch, only to be greatly disappointed by this useless, costly dog boot. All the best to those doggy owners with poorly footed pups!
Customer recommends this product
Very Disappoining
Verified Purchase
Bought this to go over dressings on a nasty gash in our lurcher's pad on his back foot. The opening could be wider, but once it's on it's OK. However, after only using it on half a dozen short (30 minute) lead walks the red outer sole has completely delaminated. Very poor manufacture. The sole is far from strong.
Customer does not recommend this product
1 person found this review helpful

Q & A
There are currently no questions for Kruuse Buster Strong Sole Dog Boot - be the first to ask one!
Delivery Information